Addendum to
Swedish laptop knee table Bräda (new name BYLLAN)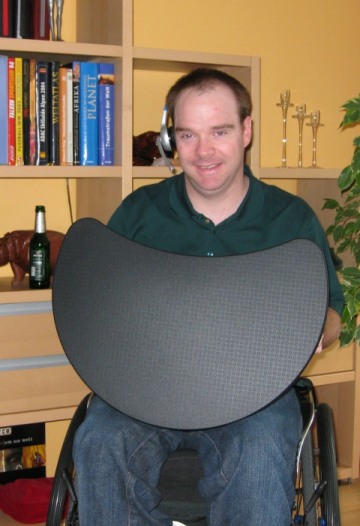 I have introduced this laptop table as rather cheap, useful wheelchair tray.
The writer and musician Robert Schneider volunteered courageously as Bräda tester.
He is known for his extravagant-hessian writing style (www.laufenverlernt.de.vu).
I mentioned one of his books in an older blogpost.
He took the knee tray Bräda through extra tough quality tests.
Despite of the little bit too soft surface board I was positively surprised.
Here during a transport test with additional tray, at speed of exactly 11 km/h with
3 liters hop blossom ice tea and 6 x 0,5 liter pints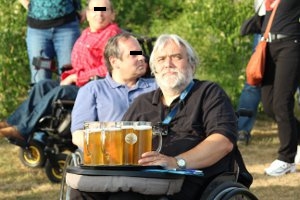 Due to safety reasons, this test is mainly executed with dummies.

A typo has slipped in, it was at 0,11 km/h.
Translator BL
Tags: Technical Aids, Ikea, Knee Tray, Tips and Tricks