Posts Tagged 'Football Women's World Cup'
Friday, March 30th, 2012
On Tuesday I was with my wife at the
Farewell Match of the Frankfurt football player Birgit Prinz.

She has been FIFA player of the year several times and scored 128 goals for the German national team. The match was great, but until I got there…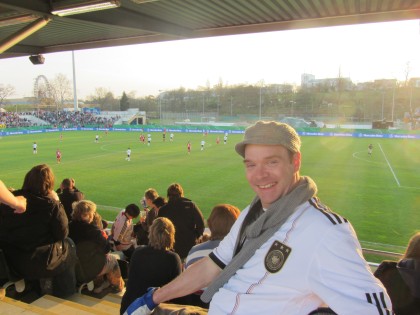 The organisation of a wheelchair ticket directly at the German Football Association (DFB) proved to be quite difficult this time. So far I had made only very good experiences during the women's world cup (see older blogposts).
After my first e-mail with the ticket order apparently ended up in the digital nirvana, it worked out a little better with e-mail number two.
Well, apparently you have to see it sportingly. Such an e-mail doesn't harm, but doesn't necessarily help either…
Now the whole event approached rapidly… 3 or 4 days!
I had not received a confirmation if I can pick up my ticket at the box office until the moment when I hit the road to the stadium.
On the matchday I also tried to find out by phone where I could possibly park my car because my e-mail inquiry wasn't answered either.
When I drove to the stadium I was hoping that an admission ticket would be deposited at the box-office for me, and the parking thing was still not clarified. I knew about the bad parking conditions there.
At some stage I didn't care, I picked up my wife and drove directly to the entrance of the stadium. It was quite busy there!
Although I didn't have an admission ticket, not to mention a special parking admission, the very kind marshals actually found an adequate parking space next to the OB vehicle of the regional broadcast station on which I could transfer easily into my wheelchair. Thanks again from this side.
Why the German football association as organiser of the event didn't create a designated handicap parking area, they probably don't know themselves. At least 15 wheelers were in the stadium. Where did they park?
If now no ticket had been deposited at the box office, or I hadn't been able to buy a ticket, even a weekly dosage of my medication wouldn't have calmed me down.
I got an envelope at the box office in which not only my ticket, but also a VIP parking admission was inside. A little too late, but as a proper German of course I laid out the parking permit in the car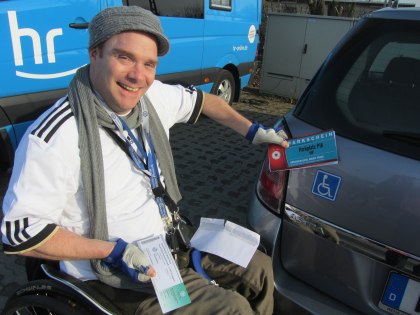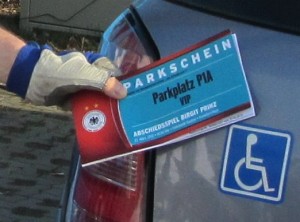 Then in the stadium I actually would have needed my mountainbike tyres for my wheelchair, because the main stand currently consists just out of small homeopathic pieces and some rocks.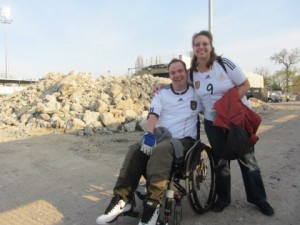 Luckily I had a ticket for the opposite stand, which was there

It was a great farewell game and I am a little sad that Birgt Prinz is quitting her active career.
When I was back home I read an e-mail from the German football association where all my inquiries about ticket, parking… were answered.
The e-mail was sent at 16:45 h, kick off 18:00 h.
The staff member was already at the stadium at this time as she wrote, and I totally uninformed on the road!!!
What a pity that I haven't met the lady

I could inquire at the German football association if they wouldn't sponsor a smartphone for me so that I can be always up to date online about my ticket status.
Translator BL