This is by far the hardest blog I've ever written in 8 years. Words cannot express my gratitude!
One year ago today on July 12th, 2015 I barely escaped from the jaws of death.
When I add up everything, that my body came up with (see older blog), it comes to 44 weeks in 4 different hospitals in the Rhine/Main area since July last year.
Although I'm now starting almost where I was eight years ago when I became paralyzed in an accident I won't complain too much, because I am glad that I am still here at all. (5 % probability of survival is not very much.)
You really don't want to know everything. There are so many diseases and I am not keen on learning the Latin language this way. From now on, my hand stays down, even if I have to attach a stone to it.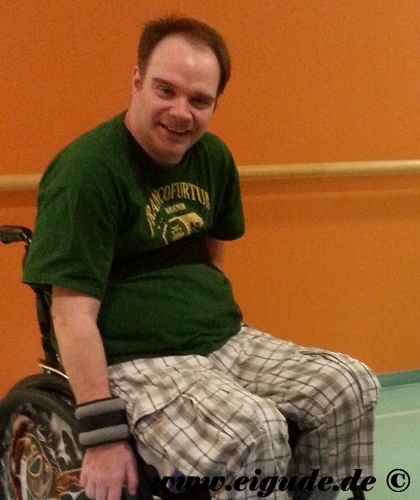 At this point I'd like to express my sincerest gratitude especially to my wife, my parents, my brother, my mother-in-law, the rest of my entire family, the nurses and caretakers, doctors, therapists of the BGU hospital unit K3/K8 and the intensive care unit of the North-West Hospital also in Frankfurt am Main and to all other friends and acquaintances who thought of me, took care of me and still do helped me to get back to life.
At night I had a lot of time to think, and I don't know how I would have managed without you. One night can be quite long.
I have not enough words to express my gratitude. There is still a long way to go, but keeping my positive attitude and training zeal I will not disappoint you. That I can promise!
Since Friday, July 1st 2016 I am now permanently at home again.
Hopefully, this was my last blog about diseases for the next seven years, when my medi pump has to be replaced again. This topic will be banned from the blog as far as possible.
Even though I'm repeating myself:
Thank you, thank you, thank you…
that you were there for me throughout the past year and still are now.
Translator BW