Posts Tagged 'Chairskating'
Tuesday, July 9th, 2013
Final Report European Wheelchair Basketball Championship 2013 in Frankfurt
End of the European Championship…!!!
The German women showed an impressive performance throughout the whole tournament in their matches.
Except for the heart-stopping final which they unfortunately lost with only one basket difference against Holland they have won all their matches.
They thrilled me the whole week. 2nd place, chapeau…!!!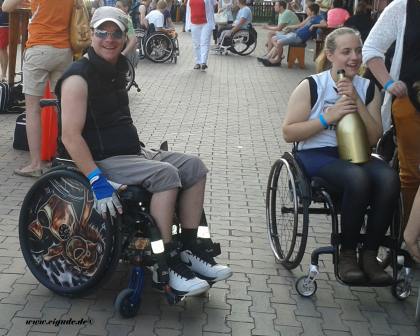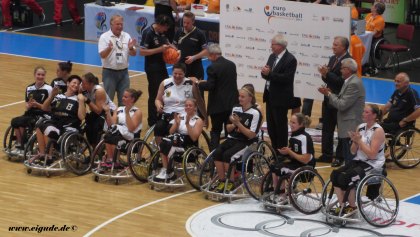 Look closely, in Frankfurt they don't only get a cup, but also a "Bembel".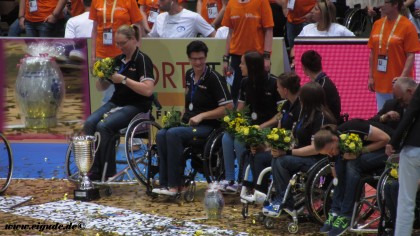 A "Bembel" is the traditional blue-and-grey stone ware jug, depository of the Hessian national drink apple cider. It is used to pour the drink into the legendary 0,3 l glass with rhomb design.
Source: Me

Back to the European Championship…
Our men played a tournament with quite some ups and downs, but secured with a sweeping match against Holland place 6 and the qualification for the next World Championship.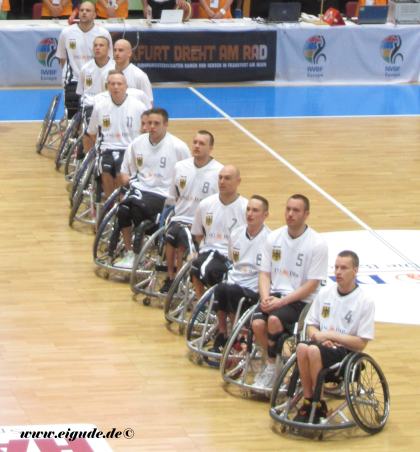 The men's final was Great Britain vs. Turkey, an exciting match at eye level.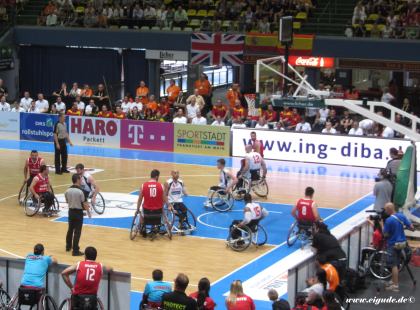 Great Britain won the match by one point.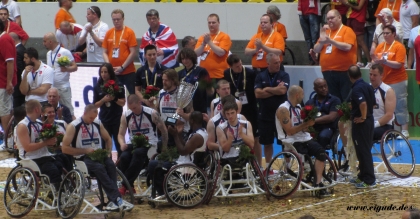 They were singing "God save the Queen" so ghastly that they are probably hit with a lawsuit for criminal assault now.
They couldn't spoil the mood of David the Chair skater & me.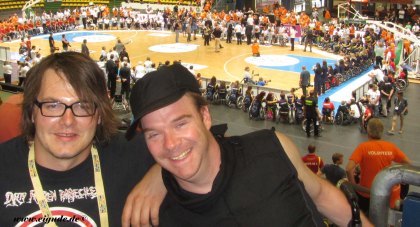 I thought it was a bit of a shame that the two blocks of Turkish fans, who made a great atmosphere during the match by loudly cheering for their team, almost completely left the hall after the lost match and didn't stay for the cup presentation of their team.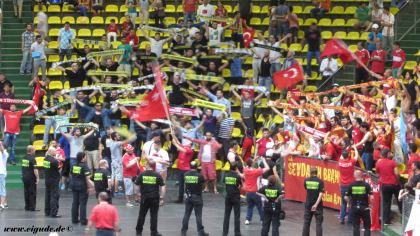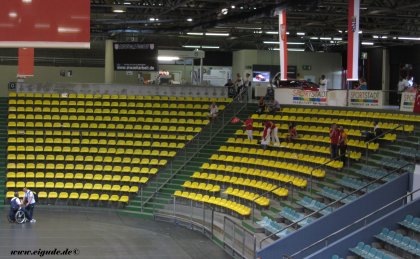 Now an unforgettable week is over where I haven't only seen lots of sport, but also collected lots of material for new blogposts and built new contacts.
During the European Championship my desk has changed its colour without my interference from black to white. I think I have to take care about the backlog of administration now… grrr… Outside sun and 26°C ;-( and I am sitting here…
Translator BL