Archive for August, 2011
Monday, August 8th, 2011
I probably get on your nerves with my handicap parking stories in the long run, but I can't hold back this "fairy tale", once again on the parking lot of the supermarket with the big L, from you.
The front two of four opposing disabled parking places were occupied by DPB's*. I parked my car with appropriate distance, so that I could open the door completely, on the next parking place. So far, so good.
When I came out of the supermarket with my wife, my blood pressure raised rapidly. While I was doing the groceries someone squeezed his matchbox car next to mine.
The front car was gone in the meantime, however this didn't help me on any further. It was a
DĂ©jĂ  vu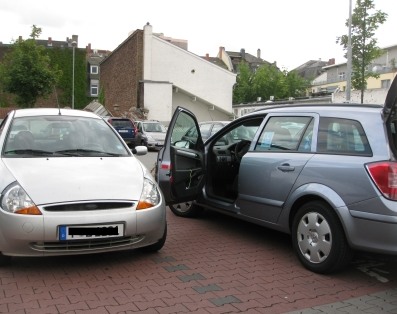 My wife stowed the groceries into the trunk while I drove quite rapidly into the supermarket again and announced the number plate of the vehicle in barker style.
When I arrived at the cash desk after my lap of honour I saw two guys in their early twenties standing next to my new favourite car, who were "instructed" by my wife.
They seemed understanding, but when I approached them I couldn't suppress to ask them loudly about the "whistling" of my recently passed away "pig" (translator's note: German idiomatic expression for "Blow me down!": "I think my pig whistles!")
For the driver the situation was apparently unpleasant and he apologized several times, which slowly made me feel uneasy. He said he hadn't seen that he was parking on a disabled parking place. I criticized the bad labeling already a couple of weeks ago, and it was promised to me to change it (see older blogpost).
I believed him.
For me the small dispute was long settled when he opened his trunk, took out one chocolate and one vanilla pudding with cream and absolutely wanted to give those to me as apology.
Of course I denied it, I was embarrassed and I felt already sorry for complaining.
The two guys drove away, and what was put on my rear window shelf,
2 cream puddings.

One minute later an around 45 year old guy parked his black "mobile home" (SUV) directly in front of me on the opposing disabled parking place. I asked him if he knew that this was a disabled parking place. He confirmed this and said that he was disabled. Then he grumbled and drove away again when I asked him about the parking permit.
Does anybody have an idea which handicap he could have had?
Write a comment.
*Disabled Parking Blockers
Addendum 13,08.11: "Pudding booty" tasted good!

Translator BL