I've always been passionate about sport, in particular the Olympics of course, even though I've never been there at a live event. Summer or winter Olympics, makes no difference to me. In my previous life I was more of a winter sports enthusiast. For evidence click here.
When I was still in the hospital after my accident in 2008 the Paralympics Games in Beijing were shown on big screen TV during my physiotherapy.
I was particularly impressed with the incredibly fast racing wheelchairs, because at that time I was just able to move about 50 yards in less than six minutes in the hospital hallways without my oxygen tent, or without qualified pushes

Last week I met with the Tunisian racing wheelchair guy Ahmed Aouadi, who participated in the Olympics in 2008 in Beijing and in 2012 in London. He currently trains as a "lone warrior" for Rio de Janeiro 2016 at a sports club close to my home.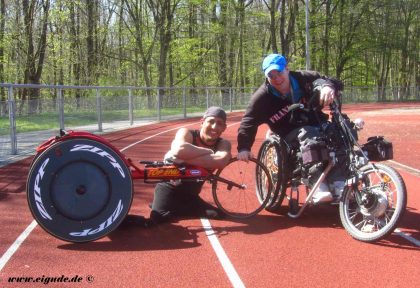 Racing wheeler Ahmed Aouadi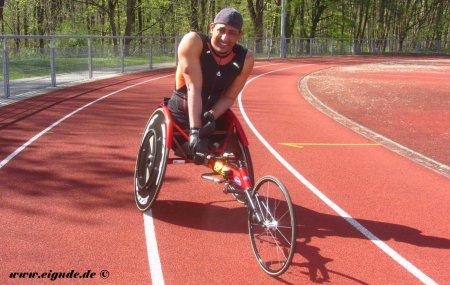 Ahmed Aouadi with a racing wheelchair vs.
Rollinator (Wheelynator) with a e-handbike
Even with my motorized hand bike under full engine assistance I didn't stand a chance against Ahmed. If you look closely, you can see that at about 20 km/h (12.5 mph) every now and then he's waiting for me.
His INVACARE -Racing wheelchair weighs a mere 6 kilograms (13.4 lbs), which equals the weight of one of the two batteries on my bike. Nevertheless, that is no excuse!
My highest respect for such athletic performance!
I'm not giving up that easily! I might be slow in a wheelchair, but I know how to tune engines