Archive for November, 2011
Friday, November 25th, 2011
To protect my – caused by the paralysis – non-existent sexy butt after the accident I have got a prescription 2008 from the health insurance for my home for a special mattress and a vertically adjustable electric frame for my double bed to facilitate the transfer in and out of the wheelchair.
This mattress to prevent pressure sores consists mainly of around 5 cm x 5 cm small rubber foam cubes which relieve the pressure on the body by bending. It is quite good.
If you are like me supplied by 3 different medical supply stores at once you shouldn't get upset if a 100 cm wide mattress is pressed into a 90 cm wide slatted frame of my double bed. That will do, better than lying on a blank frame. An exchange of the wrong mattress was arranged by medical supply store # I only after my request after 1 year when they needed a new prescription (see letter below, in German).
The screwing of the slatted frame on the bed was not considered necessary by medical supply store # II. My wife was lucky that she didn't crash onto the floor on her side of the bed together with her slatted frame because this was not screwed tightly either because of the modification. The squeaking of the brand new electric frame could be heard by the whole neighborhood. But this could be resolved by a friend with a can of silicon spray within two hours only.
Within 2,5 years the second mattress, the third remote control on which within 6 weeks the labeling was not readable any more, and the complete electronics including power unit were exchanged at this bed.
Each year I am contacted by medical supply store # I that they need a follow-up prescription from my doctor for the continuous supply of the mattress. If it would be defect, 10 cm too wide or sagged it would possibly be exchanged.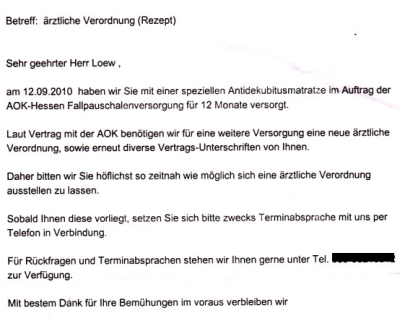 (Letter asking for a new prescription and to get in touch with the medical supply store under the mentioned telephone number to make an appointment.)
Since a couple of weeks the prescription is lying about on my desk. I am definitely interested to make an appointment, see letter. Nobody is answering the phone, the waiting loop is yelling as if you are at boot camp, and nobody reacts on my e-mails either. At least they are thanking me in advance for my efforts.
Translator BL