After spending the last few days almost exclusively with my hobby as office communication specialist (make phone calls, pay invoices, scan, hole, file or shred documents, ok, everything is occupational therapy as well) I'm ready to continue now:
The hotel Mar y Sol in the south of Tenerife is one the most known wheelchair hotels.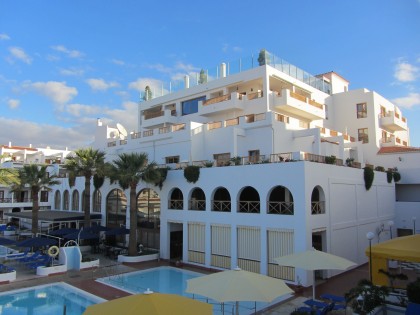 Why it necessarily had to be built on top of a hill can only be explained so that according to someone's opinion the wheelchair pusher should exercise a little bit as well.
Many "fresh wheelers" spend their first holiday there, because with the medical supply store "Lero" next door offering 24 hrs nursing services as well and renting out virtually all needed equipment it is possible to book the carefree package. At the same time you will never hear the word "patient" from the nurses, one is referred to as guest, and this is how one is treated. The nursing costs can be settled with the German nursing insurance, depending on the care level. The "pain providers" from the physiotherapy facility "Terralava" torture with additional charge on German prescription as well. Plenty of electric wheelchairs and scooters are present, as one would like to go down to the handicapped beach as well (see older blogpost).
The hotel has 2 pools, one of them heated to 32° C.
A "lifeguard" helps with the transfer to the chair of a pool lifter and winds one down as if he would water a ship's boat. With a little bit of luck he also helps to come out of the pool again

Almost all guests are repeaters, some overwinter there for 3 months, so that the stay is always a bit like a class reunion, you know each other…
It is a bit crazy if the wheelers stand in each other's way at the buffet. You always find a way very relaxed and without stress. There is no fight at the buffet, on the contrary you help each other according to your handicap.
There is also animation and some program in the evenings, but I am missing the classic "club dance".
The tradition of 1-sheet-bingo and 10-question-quiz for a bottle of sparkling wine is held high here.
This time I was there for the 4th time.
On the day of arrival I heard something about a gym…, did I miss something???
When I was there last year there was already knocking and hammering in the side building. They have built a sports hall (and not a small one!), without asking me, what a cheek!!!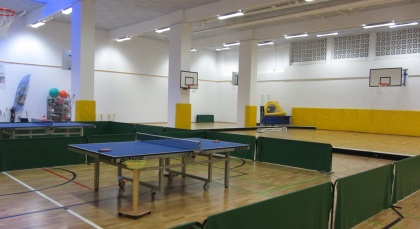 I suspected the worst:
Would I have to be involved in sporting activities, although I actually travelled there for a Minitrac-tractor tyres-test week?
To be continued…
Click on tag "Tenerife" to view older blogposts!
Translator BL