As offered on my front page, you can ask me all kinds of questions relating to technical aids, para- or quadriplegia etc. using rollinator@eigude.de.
I always try to answer these questions independently and free of charge.
Depending on the handicap the usually easiest activities become small and big challenges.
There are no problems, there are just challenges and a big challenge is a project.
Recently I received a most interesting enquiry, original text:
Because I am hemiplegic on the right side, you might know how I can stir the contents of a cooking pot on the stove without the pot stirring as well.
Maybe you have FINALLY an answer to that question!
I discussed with highly qualified colleagues to find a possible solution.
After several weeks of intensive research we came up with two solutions.
Option 1:
For e.g. sauce Bolognese you don't only buy 500g of minced meat, but at least 2 kg, so that due to the gravitational force of the earth and the law of mass inertia according to Newton, at simultaneous roasting of the 2 kg meat with non-excessive stirring, the pot on the stove will not stir as well.
Option 2:
Silicon pot holders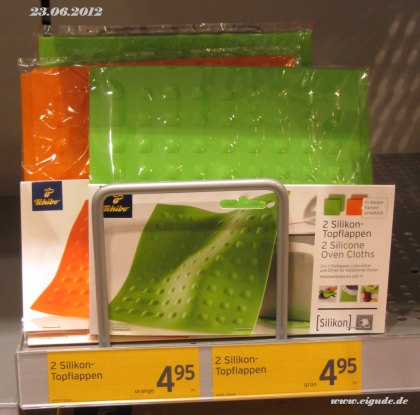 Currently you can buy these again at the big coffee roaster (2 pieces for 4,95€).
You can not only use them as pot holders.
According to manufacturer instructions the pot holders can also be used as trivet.
They would be temperature-resistant until 230 degrees Celsius.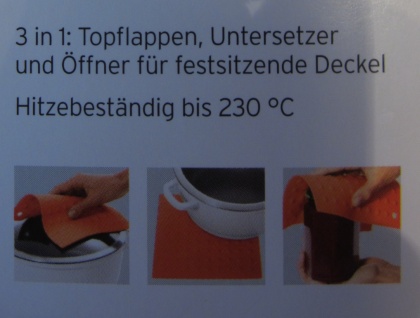 These are referred to in our specially developed
Glass ceramic stove top one arm pot stirring method
Before cooking, one of the silicon pot holders is placed next to the glass ceramic stove top.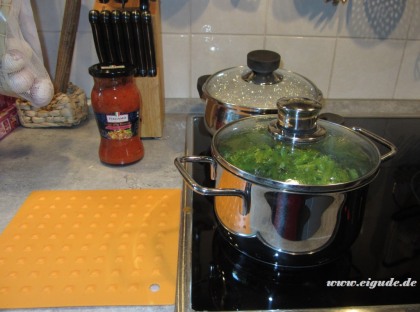 If you feel the need to protect the hopefully later delicious food from the roasty flavour and stir the contents of the pot, you just pull the pot on one handle with one arm half or a little more on the silicon pot holder.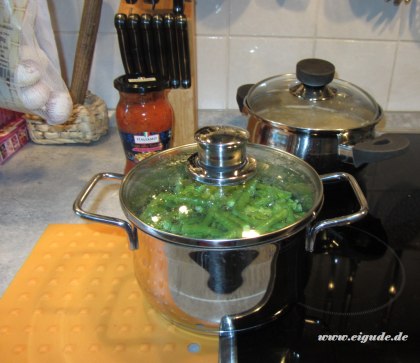 If the pot is pulled completely on the pot holder there will be difficulties with pulling it back to the stove later.
Now you can stir, stir, stir,… with one arm to your heart's content without the pot stirring as well.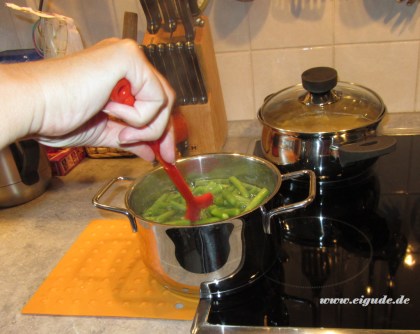 Then you pull the pot again back to the stove.
Sounds easy, and it is

Best try it before with the stove switched off.
These silicon pot holders are also perfectly suitable as non-slip mat and allegedly as jar opener as well.
Best technical aid in my opinion to open jars and bottles, see older blogpost.
Security advice:
I strongly advise against placing especially cast-iron and other pans and pressure cookers on the silicon pot holders because they may exceed the maximum temperature of 230° C.
Never place the pot holders on the stovetop!!!
Application of the tip on your own risk, I assume no liability.
Translator BL