It is due to the small fouls that wheelers are exposed every day to new challenges. You are blocked in from the side so that you can't get into your car anymore, during cleaning the toaster is moved back to the wall, or the installation CD is put out of reach on the cupboard. My last week's highlight was a beeping smoke alarm because the battery was empty when I was lying in my bed. All this is causing an uncontrollable neuron tornado in my head.
Among my favourites are open windows.
In the summer it's getting warm and in winter quite cold, if the heater below is not running on full power which I can't reach either.
There are definitely more important reasons to ring at the neighbour's door than asking them to close an open window. Grrrrrrrrr…
The do-it-yourself store with 20% on everything except for the parts you really need offers a
Hobbit &wheelchair window closer/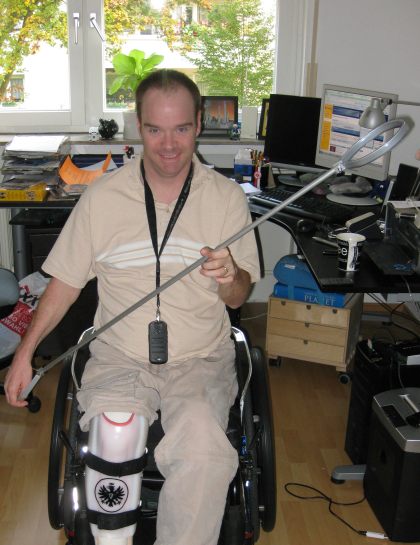 "almost" usable in their assortment. However, small construction work needs still to be done.
Just take:
min. 1 meter aluminium pipe, thickness 12mm
1 meter aluminium flat bar 15m x 1mm
30 cm hose inner diameter 10mm- 12mm
2x screw M4 x 25mm
2x screw-nut, self-locking M4
1x drill 4 mm with drive mechanism
Construction tools for screwing, or a set of healthy teeth
Cost of material ca. 10,00€
Saw the aluminium bar in ca. 2x 36 cm long pieces and pull the hose on one of the pieces.
Drill a 4 mm hole into all sides of the aluminium bars and the pipe centered with a space of 15 mm from the edge.
Bend the aluminium bar with hose oval e.g. using a bottle and bolt it two-sided with screw and screw-nut on one end of the pipe. This is going to be the window side.
The other aluminium bar is going to be the handle. This can be formed according to hand function or artistic freedom oval, square, round or even heart-shaped, main thing is that the bolting on the pipe is not forgotten.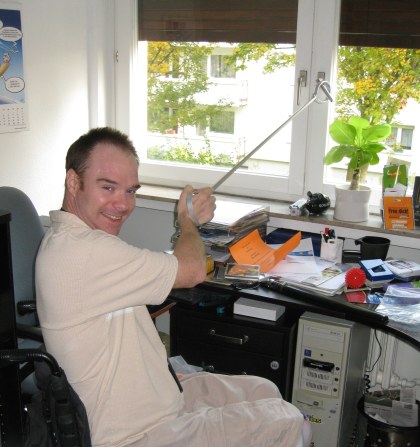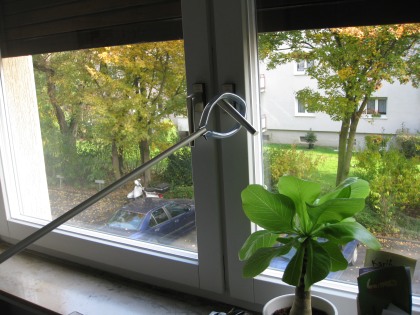 (My white Vespa scooter from 1992 in the picture below with kick starter is looking for a new master!)
The operating mode of the window closer should be comprehensible, but could on special request be explained personally under phone number 00907/40059449665 for only (1.000.000.000 €/min) by "Bernd das Brot". (Translator's note: Reference is made to a satirical sketch to spoof call-in shows on TV, (see also other blogpost).)
All open windows can be closed again now.
And how to open them we will learn tomorrow!!!
The certified re-constructor is obligated to send to the Rollinator a Chilli Pizza online.

Contact: rollinator@eigude.de
Translator BL