Every now and then even I am speechless.
It's not a secret that I am football fan of Eintracht Frankfurt.
My cousin has given the official
Eintracht Frankfurt Fan Rucksack
to me as a present. Of course I have positively noticed that the rucksack has plenty of reflectors.
This rucksack has additionally two hangers on the side.
The only logically use of these hangers is to be able to hang the rucksack over the handles of a wheelchair.
Simply great, it fits!
Wheelchair hangers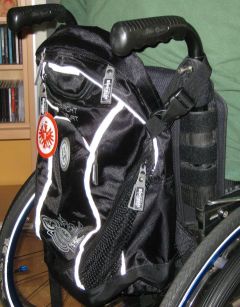 Was it a manufacturing error, or did they have a wheelchair driver as designer?
This rucksack is of course "not" available for other football clubs.

Translator BL