I am currently testing a technical aid, it is a
Knife Holder

This holder has been developed mainly for quadriplegics like me with limited or no finger function.
You notice immediately that this part has been built by insiders, it has been really well-thought on.
The knife is fixed at the hand adaption. The holder is dishwasher safe.
There is no finger function necessary to use it.
I was convinced by the knife holder already after the first test.
With the weight of your own arm only you have already a strong pressure with the knife on the evenly to be sliced test objects, in this case out of pork.
The cutting could be done without effort.
My first test was not representative yet because thanks to the cooking skills of my wife the test samples to be cut were tender pieces of pork fillet.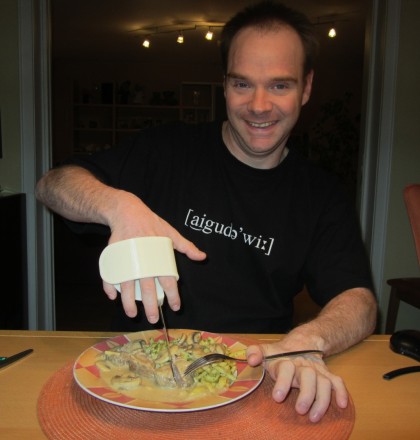 Now I was in a dilemma: To complete the test series I had to try to cut tough meat as well!!!
To order a steak "well done" is against my nature, I am not a Botswanian who empirically puts a steak 20 minutes on the barbecue until it is dead for the 2nd time.
I decided that it wasn't necessary to test if it would be possible to cut a tough piece of meat with the special knife or not. I wouldn't like to eat it then anyway.
An appointment in the test lab "Charisma" in Frankfurt was made to come to a final conclusion.
As you can see on the picture the test object in this case was a beef steak with fried onions, fried potatoes and for the better gliding of the knife, a little herb butter.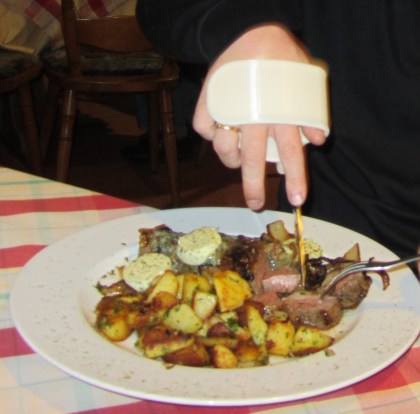 The cutting of the meat was done extraordinarily well, I didn't expect that.
The knife is very sharp, and the knife holder convinces all along the line.
It has to be decided on an individual basis to what extent the purchase of this technical aid makes sense.
I am convinced by this technical aid.
Unfortunately it doesn't have a medical device number, thus only suitable for self-payers, whereas the price is absolutely fair.
Have a look at the older blogpost with my self-developed electric
(Click here for blogpost with video)

Translator BL