I was standing in the more or less private bus with my Minitrac in front of the plane on an outside position at Frankfurt Airport.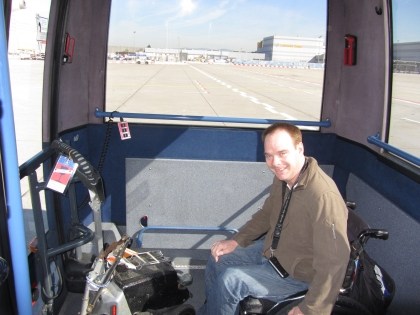 As often before, I was waiting for the
lifting bus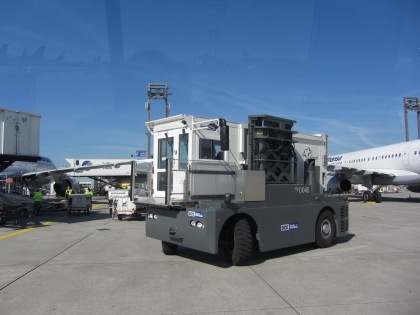 to beam me up to the plane.
Meanwhile my Minitrac was loaded to the plane.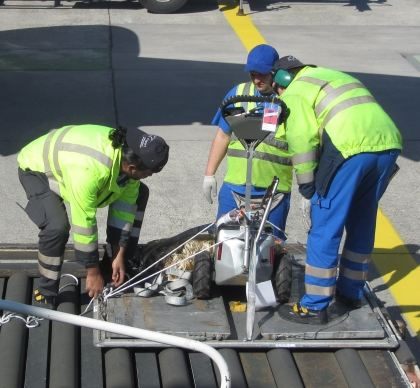 In the meantime also the other passengers had arrived with busses and were waiting on the other side of the plane which I didn't know.
The lifting bus didn't have its best day and acted a little stubbornly. It absolutely didn't want to lift upwards. After at least 10 minutes I finally arrived at the door of the plane.
Then everything went fast. Two strong paramedics lifted me on the small plane wheelchair which is nothing else than a sack truck in chair format and pushed me almost through the whole plane to my seat.
Then they lifted/threw me as usual across two other seats on to the window seat.
I learnt on the return flight from a flight attendant that as of late due to the anti-discrimination-law you don't have to necessarily accept a window seat even as wheelchair user.
What a nonsense
 the seat neighbour on the window seat in the plane would certainly be happy if I had the middle seat and he would have to proof his sportiness in high and long jump when going to the toilet!!!
In each aircraft there are specially labelled handicap seats with pictogram on the wall. My intelligence wasn't sufficient yet to understand why the seats are so far at the rear end of the plane.
This time I didn't have one of these labelled VIP seats, what a shame!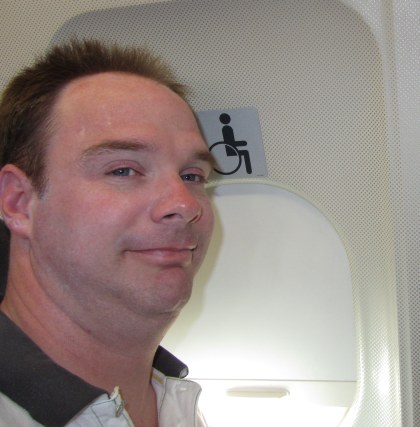 (photo from return flight.)
After I was finally "stowed away" properly in the plane the other passengers were allowed to board as well.
It was my fault again, we had about 15 minutes delay.
Short before take-off there was as usual an announcement from the cockpit, roughly like this:
Dear passengers,
We are pleased to welcome you on board of the flight from Frankfurt to Palma de Mallorca.
I would like to apologize that you had to wait in the busses.
We have a wheelchair user on board for whom the boarding took a little bit longer!!!
Ehhh…… I have been in a plane quite often, but a, let's call it personal welcome from the captain was new to me.
I was a little sorry for the two pedestrians who were sitting two rows ahead of me on the two VIP seats with handicap pictogram on the wall, they probably got some nice looks

I was briefly considering to ask a flight attendant if they had smoked something up front in the cockpit, but I didn't, I was in a good mood and had a good day.
I plead guilty as aircraft take-off delayer.
Translator BL