Frankfurter StraĂźenverkehrsamt (Frankfurt Department of Transportation, FDT)
" finally lowers new "lowered pavement"… !!!
Everybody who is somewhat familiar with Frankfurt am Main knows that the new tram line 17 that was built in the district of Sachsenhausen is running since January.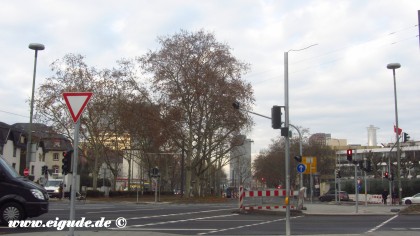 During the construction months the big intersection Stresemannallee-Kennedyallee, to which I live close by, became an "adventure playground" for people like me.
From the beginning barrier-free construction was planned, of which in the next few years I should benefit greatly. The city of Frankfurt and the Dept. for Public Transportation is currently investing millions for the accessibility, what is absolutely commendable.
However, back in November I was kind of speechless, when I tried to cross the street with the Rolli and couldn't make it up the "supposedly" lowered curb of one of those main traffic islands.
On the left side the curb was at least 10 cm high and inclined to about 5 cm, so that the Rolli was on three wheels only and I almost unintentionally had to leave my vehicle.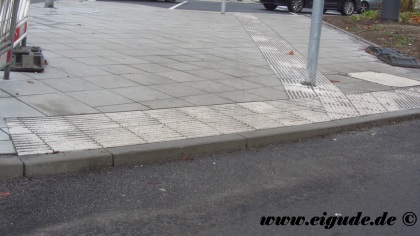 So I went by the running traffic on the bicycle lane next to the island, which was more like a daring challenge for a wheeler…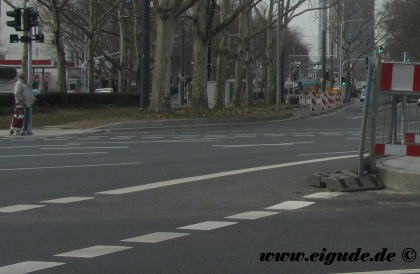 On the other side of the same island a "specialist" ever so skillfully sawed off a piece of the curb, which made me fear the sharp edge could cause a flat tire.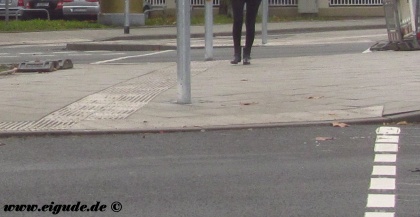 I approached the construction workers several times and the engineer in charge called me at home to discuss my complaint. He promised to look into the matter, but nothing happened for weeks.
Once in a while I inquired with the Frankfurt StraĂźenverkehrsamt (FDT), but as I now know they were not directly responsible for the traffic island.
By the end of February, the curb unfortunately had not automatically lowered itself; I had a dentist appointment and once again needed to use the intersection.
With some reservations I took the bike lane again, when a car went by so awfully close that I felt its side mirror on my jacket.
That was too much!
With a bit of effort I managed to get a competent clerk of the FDT on the phone and explained to her how dangerous the current status is.
Ten days later I was once again at my "favorite" intersection. Much to my surprise the traffic island had been completely revised. Thanks to Mrs. R. from this sit!
Look at the difference, I am delighted.
The piece of curb "lowered by saw" I will submit to the city as a sample, lol … !!!!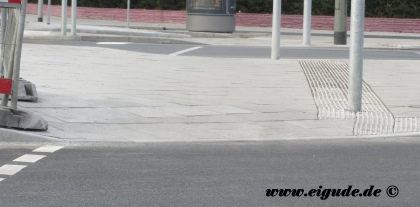 Because of somebody's effort, the other side of the curb was also replaced.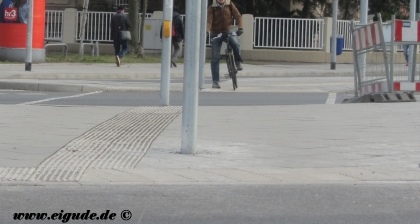 In the last few years I have seen time and time again, that everybody can make a difference. If you see deficiencies speak with the people in charge. Often it is easier to change something than you might think.
Click here on "Eigude Shame" for similar stories.
Translator BW
.
Translator BW