Posts Tagged 'Mallorca'
Sunday, June 9th, 2013
Trial lesson in Tenerife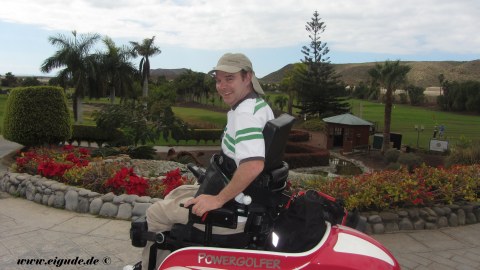 I had already reported a year ago about an electric wheelchair with which you can play golf, (see older blogpost).
In Tenerife, you can rent such a golf wheelchair in the Hotel Mar y Sol in Los Cristianos, and also play a round with a coach on the golf course.
As I once played field hockey in my previous live and I would have liked to hit a ball again, my curiosity was even bigger.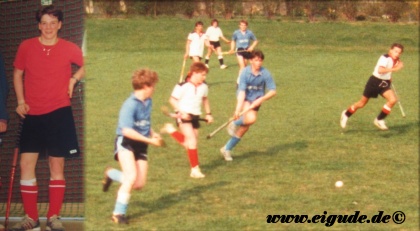 This year I even had the possibility to meet the challenge of playing golf with my friend Christian Nachtwey, a former European champion and team captain of the German National Team in wheelchair golf.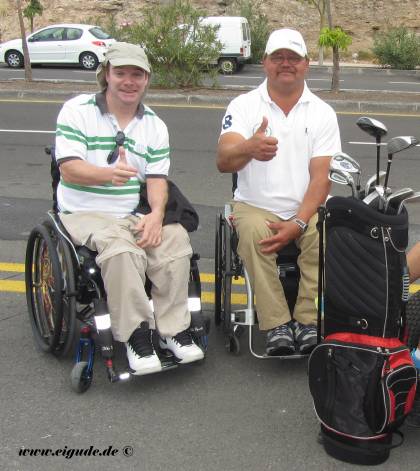 Christian is not only an excellent golf player but also has a company which produces these golf wheelchairs. www.powerbasetec.de
In my former life I have driven many fork lifts, lifting platforms and similar vehicles with joystick, but such a delicate steering mechanism as it is in the golf wheelchair was new to me. Just driving around is really fun!
However, I was still in doubt how I should hold the golf club with my limited finger function and then even be able to hit the ball.
You have to take such "trifles" as a game, up to now we usually could think of a solution.
You are buckled up with knees and chest, similar to my Standing chair at home, and then you rise to the sky.
I have to admit, we were "just" on the Driving Range.
After we fixed the golf club with velcro straps and duct tape to my hand, the test series "Play Golf 1.0″ instead of "Drive Golf 12.1 years" could begin.
To my surprise you hardly need power, so that the ball even moves with me.
It seems to me that you can learn to play golf quicker as a "wheeler" than as a "footer" because you don't twist the upper body during the shot due to the belts.
It is a lot of fun, I can recommend it to everybody to give it a try.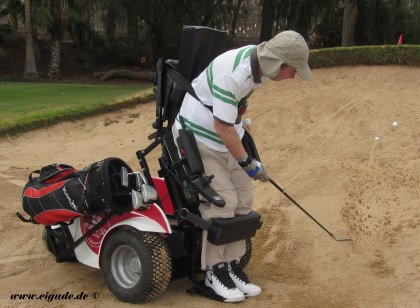 Wheelchair golf is also possible on Mallorca, this is there offered by "FUNDACIÓN HANDISPORT Mallorca".
With them I was already sailing last year. It was a perfect day then, (see older blogpost).
A roll of duct tape is necessary per hole…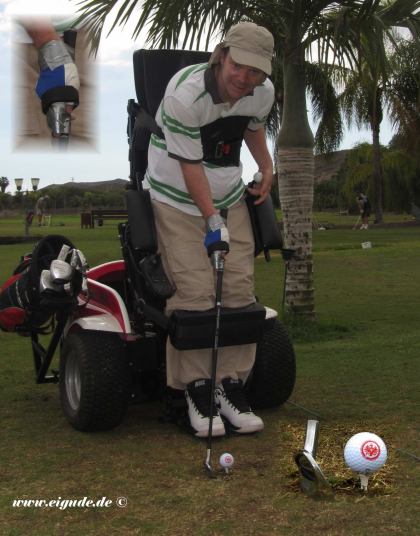 After I unpacked my "secret weapon", the golf-ball from Eintracht Frankfurt which I brought along, Christian virtually didn't have a chance any more

Translator BL