Posts Tagged 'Therapy'
Sunday, April 24th, 2016
Unbelievable – or Tough Stuff
A few months ago I was scheduled to be transferred out of the rehab facility in the Taunus (behind the seven hills where the seven dwarfs lived) back to the hospital in Frankfurt from which I came 6 weeks ago. I was to undergo a special examination named Angiography, a procedure during which one can actually watch his or her own brain function live at work. The transfer service was ordered a few days before with the request "sitting in own wheelchair". I had already had my bags packed the day before (you wouldn't believe what all accumulates in 6 weeks!) I cleared my small single room for dismissal at 8:00 AM because it would be reassigned right away.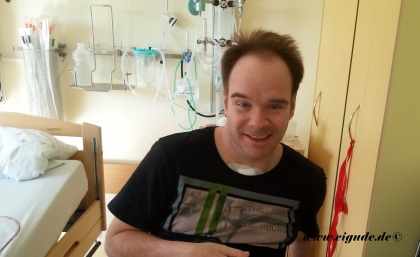 The next morning at 7:20 two nurses stormed into my room and told me slightly stressed that the shuttle would take off half an hour earlier, which was in 10 minutes! Of course, I couldn't insist on the 2 drivers delaying their contractually assured breakfast break. After a short handling, also called basic care (I felt like at the Pitstop at a Formula 1 race) the transfer service showed up – but of course, with a stretcher. There was not enough room in the vehicle for me sitting in my wheelchair. Oh well, I had "only" told them about five times! Well…uh… bad. After a successful arrival in Frankfurt I was seated back in my wheelchair and the drivers checked me in at the emergency room of the hospital. I waited patiently while the drivers cleared the field. After approximately 10 minutes a staff member approached and mentioned that I was quite early.
My comment: not that bad, 8:45.
She: ONE WEEK!!!
Those "luminaries" from the rehab clinic, whose priority apparently is not the well fare of the patient, kicked me out an entire week early! Fortunately, the hospital had a bed available and granted me asylum for the time being.
Translator BW