Posts Tagged 'Ramp'
Tuesday, February 14th, 2017
As previously reported, in October a new front door got installed (see older blog.) The new door now has a 3 cm high sill, even though it was known that I am a wheelchair user. I ordered and paid for a power remote control to open the door, but still was not able to make it to the entrance by myself. The floor at the entrance used to be leveled.
OK, this was totally my fault! How could I order an electric door opener without mentioning that I would like to leave the house once in a while, duh

Contract properly fulfilled. Set six!
After only seven weeks the electrical door opener eventually started working – just in time for Christmas, yay!
Such quality work I have experienced quite often in recent years. Are there really no more professionals? Have they become an extinct species? I maintain that our former service team still consisted of highly professional people!
Since the manufacturer of the door did not provide anything to overcome the threshold (this would be unthinkable in the USA), I had to order a fitting aluminum plate on the Internet.
My former colleagues immediately agreed to prepare and drill for installation. It looks so simple, but it really isn't. The difficulty lies in the detail. During the briefing I already felt like being back at work – before the accident in 2007; we certainly spoke the same language.
Within a week they had those plates properly installed – couldn't go/roll any better!
Never was I put off or did have to call after them – they just did it!
During the installation in record time I almost cried tears for joy! Everybody knew exactly what they were doing and they also brought the right tools along.
Thanks again, you guys are great!
You see, they are still around, those professionals! Only to find them is harder than a scavenger hunt at jungle camp.
Also many thanks to all my neighbors for their approval to allow me to do all these necessary modifications – in particular the installation of the stair lift and the rail at the house in 2008 (see older blog.)
Now I am only waiting, actually since May 2016, for a light to be installed next to the ramp at the front door. Meanwhile I have changed electricians. Maybe the "enlightenment" is going to happen this year 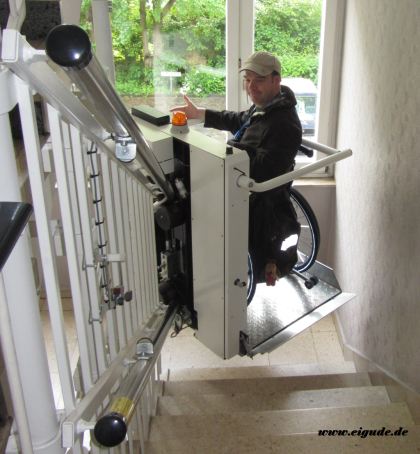 To read all the articles of the "Just great series" . click here.
Translator BW